I love this book, and here's why; it's a collection of how-to-write essays by published authors. Not just one author, but several, and it covers a great deal of the writing process, several different genres, and different aspects of editing, revising, and getting published. Just reading some of the essays makes me inspired, though some of the advice isn't very good. As long as you know enough about writing that you can pick and choose which advice best fits your storytelling style, I definitely recommend this!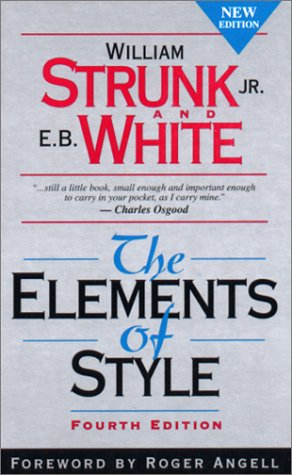 Definite grammar guide, right here. Along with several other tidbits (commonly misused words) it explains pitfalls of basic writing, and how to avoid them.
Great for inspiration, but it's also just fun to read. There's at least two in this 'series,' basically made up of interesting pictures and thoughts that are specially designed to inspire the blocked writer. Since flipping through this book, I've started creating my own 'pocket muse' with pictures and quotes I enjoy. Definitely worth the 8.95 I spent on it - but I've seen it up to 12.95. Don't let the size fool you, it really is enjoyable, even if you're not suffering writer's block.
Alright, there you go - my survival guides. Of course, I started writing long before I read any of these, and that's also something I would recommend. Actually, I'll post a later blog on ideas about how to start writing, since there's a lot to say. In the mean time, enjoy some writer's famous quotes on writing.
Human beings have their great chance in the novel -
E.M. Forster
A novelist is, above all, the historian of conscience
- Frederic Raphael
In all my writing I tell the story of my life, over and over again
- Isaac Bashevis Singer
Medicine is my lawful wife. Literature is my mistress
- Anton Chekhov