Plot twists can be a difficult thing to manage; just ask Yoshi.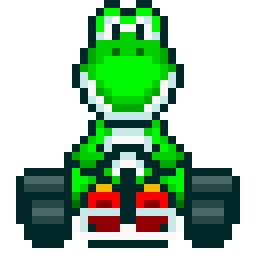 Every true gamer knows this experience: Yoshi was soaring along at 90 mariomiles and hour, swerving through all the hairpin turns, expertly navigating the ghosts on Ghost Valley and making all the shortcuts on Rainbow Road. Then, out of nowhere, THIS appears:
Yoshi goes swerving off the road to avoid it, but TOO late! Once he hears that oncoming blue-shell siren he knows his days are numbered. It collides, and the force of a thousand atomic bombs throws him into the air. Meanwhile, seven other racers speed on underneath him.
Yoshi has lost.
Now, while this feeling can apply to everyone at one point or another, we also know that writers can feel this way when we don't pace ourselves.
This happened to me just last year - I was racing to get a novel finished so I could participate in NaNoWriMo. I wrote 30-40 k in 3 or 4 weeks, but I had no outline, no plan, and didn't stop to take stock every few thousand words. Like Yoshi, I was carelessly and expertly flying through the plot as quickly as I could manage.
Then, a week before NaNoWriMo, the Blue Shell of Hell came flying out of the backwater and sent me flying. I had no defense as I had to delete thousands upon thousands of words, and edit the rest to kingdom come. And what is this shell of destruction? This disaster I had not prepared for?
An unplanned plot twist.
Let's go back to Yoshi.
There's an interesting phenomena you can observe when you play Mario Kart with experienced gamers. Yoshi is humming along with just as much skill and precision as ever, but he's holding onto his items, he's avoiding some of the shortcuts, not cutting some of the curves quite so tightly. Yoshi is in second place behind Mario, and he guards it with his life. No one passes him, and he keeps Mario in first place, fixed in front of his eyes.
In my writing example, imagine if I had spent a few more hours thinking about the plot instead of just writing the next scene. Outlining complex story lines instead of just hoping it'll work out. Writing notes instead of trusting my memory. I'm at 20k.
Then the siren.
It's the final lap and out of nowhere, flying in from the back ranks of the racers, comes the song of destruction. The blue shell is whistling around the course, faster than any go-kart, racing toward Yoshi with alarming speed.
The plot twist rises slowly in the story in front of me. I see the foreshadowing, I see the characterization involved. Every part of the story - except a few, well-hidden lines - has pointed toward one conclusion, but new pieces are falling together and preconceived ideas were been disproven.
Like Yoshi, I am wearing a smile.
Because you see, this was planned. Yoshi keeps cruising, holding the mushroom items he has stored and waiting. The song of the blue shell grows closer, closer - then fades. It hurtles 100 feet past Yoshi and smashes into Mario, sending him flying. Yoshi uses the mushrooms, and rockets past his fallen comrade and into the finish line.
With a flourish, I write the scene containing the dreaded plot twist with understanding and detailed execution, knowing that the readers will not see this coming. Why? Because I planted the seeds for this in just the right way, carefully staying in second place - and the blue shell can now hit the reader instead of me.
Plot twists are tricky creatures. Do you enjoy writing and reading them? Or do you prefer it when you have a good idea what's coming?
XOXO
Bethany
P.S. Apparently Tuesdays and Thursdays are better for blogging for me, so I'll probably be switching it up - since I only end up usually blogging twice a week anyway. Thanks for bearing with me!